**Warning: Contains Adult Content**
**This post contains links that will lead to the ADULT online store Eden Fantasys. Please do not click the link with your children around (or if anyone else that you would feel uncomfortable around if adult toys and sexy lingerie show up on your screen**

This is our first Valentine's Day as parents and trust me, trying to figure out how to have a romantic Valentine's Day/Evening with a little one that is teething hasn't been easy. Plus, since VDay is a Monday that means hubby has to work. Definitely looks like my options are limited plus a very tight time frame to work with. Of course we'll go out to dinner, a very early dinner so we're home by little one's bedtime. That leaves us with the entire evening free to enjoy a semi "date-night". Since I don't feel like spending Valentine's Day watching wrestling (gotta love Monday Night RAW and yes, hubby has it set to record every week thanks to our DVR), I decided to check out EdenFantasy's for a few ideas to make the evening special.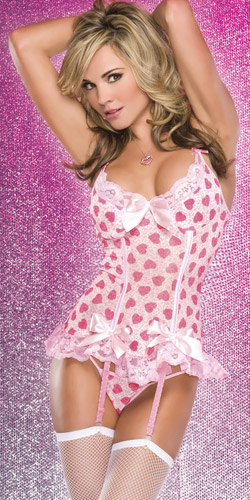 I love shopping at
EdenFantasys
, there's everything from
adult toys
to cute, sexy
lingerie
to
floating roses
.
Definitely something for everyone to help create a special evening. I like to stick to simple things and love surprising hubby with cute new sexy lingerie and I love that EdenFantasys has sizes that actually fit a lady with curves. I'm not a size 2 and I often get disappointed while shopping since everything is made for those in such small sizes. I'm a full figured women, I've had a child but I still want to look (and feel) sexy every once in awhile and EdenFantasys offers a wonderful selection of items in my size.
So if you're looking a fun Valentine's Day, a way to bring a little romance back into your life, or simply want a little fun between diaper changes and busy work schedules, head over to
EdenFantasys
for a little shopping.